Another fantastic day of competition for the Seacroft Wheelers Spring Road Races that took place on the 24th March this year. An exciting twist to the format with the regular mens cat 2/3/4 race in the morning and a womens cat 3/4 in the afternoon, a first for the club in modern times !
Read down for the report, full results, pictures and more….
A full field of 60 men assembled for the 59 mile, 11 laps of the familiar Bishopwood course. Interesting weather conditions, bright Spring sun, a cool 10 degrees and punishing cross winds that moved the pack like a shoal of fish at times on the start/finish straight. The wind, combined with several digs off the front broke up the field through out the morning and a group of 5 rounded the final corner some distance from the chasing pack and Aaron "Smiffy" Chambers-Smith pounced left in the sprint for the line to take victory by several bike lengths !
Several mechanicals and withdrawals due to the conditions but zero accidents, injuries, knocks reported 🙂
In the afternoon it was the turn of the women to take centre stage and that is exactly what 55 (5x D.N.S.) of them did to assault the 38 miles, 7 laps of the same course, with even stronger punishing cross winds that had built through the day ! Surges in pace fragmented the field and lots of elastic bands were stretched (and some snapped) in what was for many riders their very first race. A group of around 25 came back to take the bell together and 2 attacked off the front in the final lap with Jayati Hine pipping Poppy Cooke for the win and a bike length separated the sprint for 3rd, 4th and 5th !
Amazing to see so many women pin a number on, in what could well be a British Cycling record in a cat 3/4 road race and was just incredible to see and awesome to be a part of. Again, happy to report ZERO incidents/injuries/knocks were reported which given the conditions and amount of new racers is just wonderful, chapeau to all 55 ! 🙂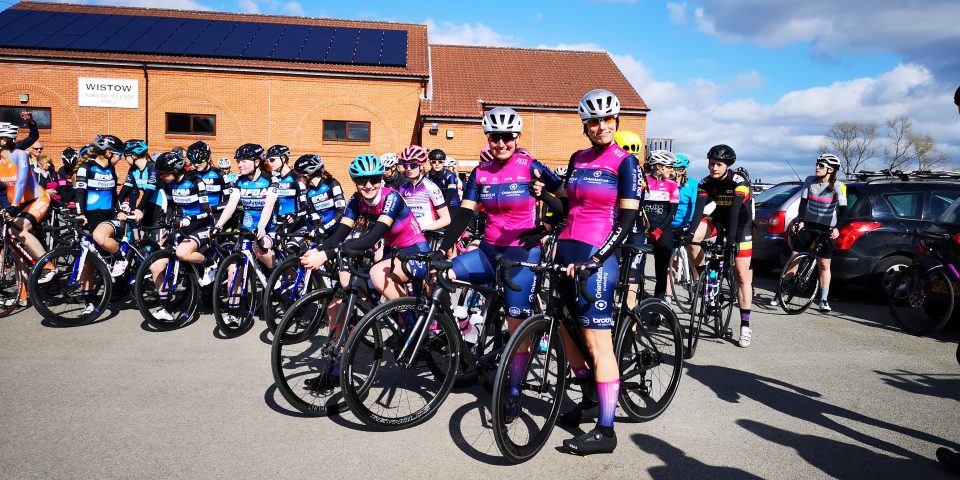 It can't be stressed enough what a collaborative team effort it was to fill the clubs first womens 3/4 race, from the local cycling community and extended family, who's amazing support was truly humbling. Thank you to everyone who entered, posted, shared and contributed, of which there are too many to list individually.
Special mention to Amy and Elle from Ride Like a Girl who worked tirelessly on promoting the event and nurturing the women new to racing, encouraging them to have a go.
To Ian Cooke and team for bringing 6 of the RFDA squad (clinching the unofficial team prize 🙂 ) closely followed by Team Crimson Performance with 5 (and unnofficial best kit prize).
To Seacrofts very own Lynn Hanson for flying the flag for the club and doggedly bringing home a very brave and tenacious 5 lap solo effort.
Thanks to event sponsors Edinburgh Bicycle Co-Operative and all the marshalls, drivers, helpers without who's time and effort these occasions could not happen. The post race feedback was just incredible, so many happy, giddy, (and relieved 😉 ) faces and this all contributed to an amazing day for the club and all the racers, celebrating our combined love of all things cycling that will live long in the memory 😀
Some thoughts from the day :-
"Thank you for the well organised race we all had a great time" Mel, Andy Moore Autocentres Racing
"thanks to all at Seacroft Wheelers for putting the event on, it's fantastic to see true equality across genders for sport promotion and puts us firmly where we should be always. Our squad will always support you guys and will perform every time to their absolute best! " Ian, RFDA
"Such a good race and encouraging commisares. Thanks so much for giving the ladies a chance to race!"
Hanah, Crimson Performance
"Awesome event. Proud to be a part of it. Thank you so much to Seacroft Wheelers for taking a chance on women's racing! ❤️❤️❤️❤️❤️" Sophie, VSCC
"It was the best! Thank you guys for hosting a great women's race. My only request for next time is no brutal headwind!!!! ?‍♀️ ??‍♀️" Serena Crimson Performance
"…thank you @seacroftwheelers for a well ran event. So glad the turnout for the womens race was so high and felt honoured to race in a crowd of such strong women…" Ellie Rose
"Thank you all! Fab event and such great supporting too ♥️" Jessica, Crimson Performance
"…@seacroftwheelers put on one hell of a road race last weekend. Great event, hopefully one that will become a regular part of the calendar…" Louise, LIV AWOL
"Thank you to @seacroftwheelers for putting on the race, fantastically organised and a great course for it"
Rebecca, York Cycle Works
"Massive thank you to @seacroftwheelers for putting on such a fab race…with 60 entries filled!!…" Poppy RFDA
Results:-
Mens Cat 2/3/4
1st- Aaron Chambers-Smith (Andy Moores Autocentres Racing)
2nd- Harry Lee (Wold Top Edge RT)
3rd- John Brearley (Squadra RT)
4th- Toby Tanfield (Cleveland Whls/JRT Catley Wakeman)
5th- Eugene Cross (B38/Cycles in Motion)
(full placings up to convoy here)
Womens Cat 3/4 (all 5 from Yorkshire clubs and teams! 😀 )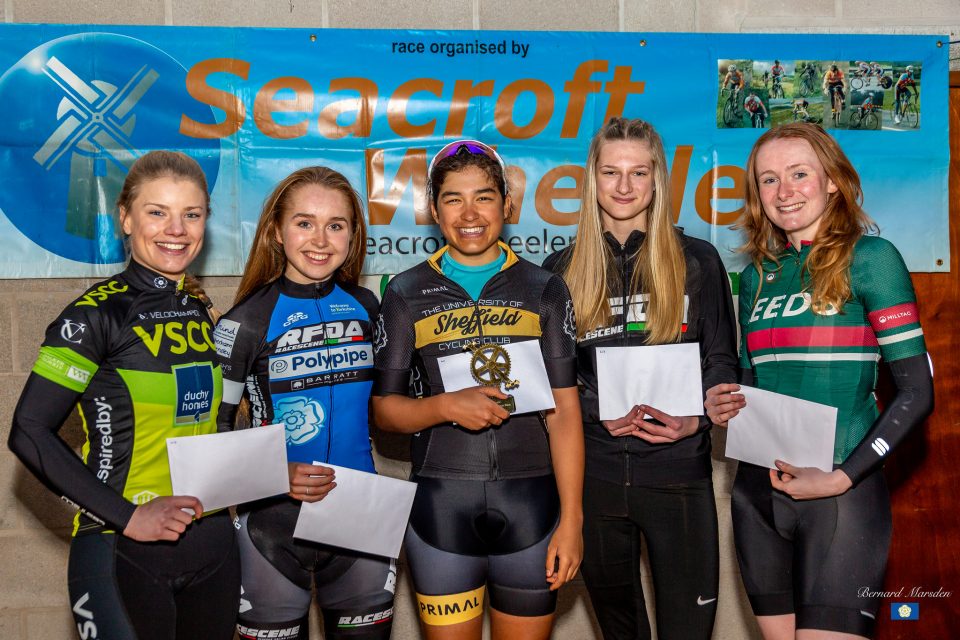 1st- Jayati Hine (Uni. of Sheffield CC)
2nd- Poppy Cooke (RFDA)
3rd- Evelyn Oldale (RFDA)
4th- Sophie Earl (VSCC)
5th- Lydia Hunter (Uni. of Leeds CC)
(full placings up to convoy here)
Updated British Cycling results are here.
Pictures:-
Mens Cat 2/3/4
(hover cursor on pic to pause slideshow, use the arrows/dots to navigate)
Womens Cat 3/4
(hover cursor on pic to pause slideshow, use the arrows/dots to navigate)
This volume of pics has been added to be inclusive of all riders and to show the amount of personal battles that were going on out there ! 🙂
Click here for the much higher resolution (and quality) of Bernard Marsden's and here for Craig Zad's photograph albums from the day.
Click the video tab on this link for some footage from the day.