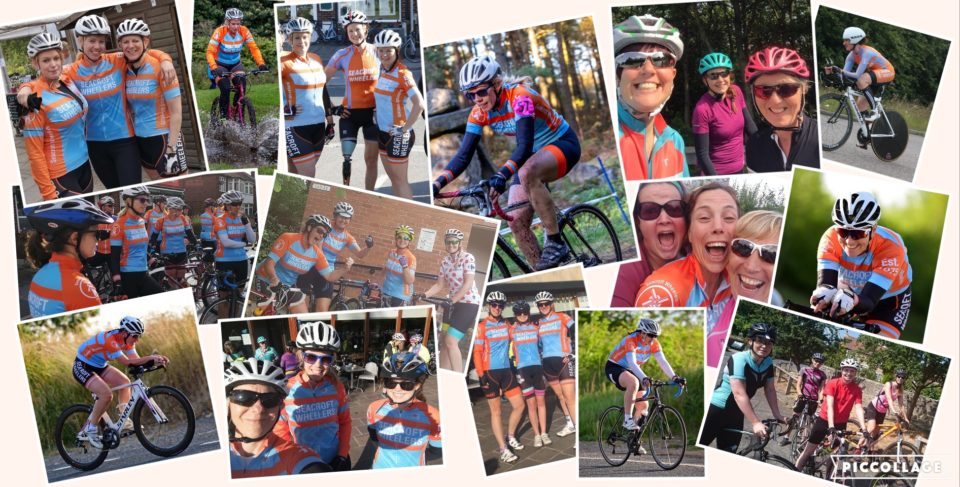 Welcome to the page for Seacroft Wheelers women members and those riders looking to join us 🙂
As a club we are committed to providing an environment that creates a healthy gender balance, where everyone's level of interest in cycling is respected and encourages more women to get on a bike and join us for some two-wheeled adventures in Yorkshire's beautiful countryside.
The aim is to provide a bit of a spotlight on the club for you, answer some potential questions you may have and introduce you to some of our female members with a bit of Q and A.
If you do have ANY questions, suggestions, things you would like to check please feel free to contact our Women's Officer Astrid here
Why have a Women's Page ?
Cycling clubs can have a bit of a stigma attached to them for being the home of those elitist male riders that are only interested in big miles on expensive bikes with no time or space for the beginner or those looking to increase their miles and socialise.
Yes, the typical percentage of female members in UK cycling clubs is around the 18% mark and Seacroft's is not dissimilar (increased to 28% as of 2021) but we're determined to increase that and get more women on bikes.
We want to show you why Seacroft Wheelers is the club for you!
What do Seacroft Wheelers offer Women riders ?
Rides suitable for all levels of fitness and available time, whether you're a beginner, working at increasing your distance/speed, or want to eat some miles on a century to the coast
Coaching sessions on bike handling, group skills, race/event preparation
Off-road rides, mountain bike and cyclo-cross training/racing and day trips to the Dales (for example)
Evening time trial league, 2-ups, 3-ups, hill climbs if you like to battle the clock
Local women's road race run by the club
Experienced ride leaders
Cafe stops, cake and chat
Female-specific club kit
Fellow female riders of all ages and biking backgrounds that cover all of the disciplines mentioned above 🙂
The volume of independent research that has been done as to why there are less women riding bikes than men puts it down to the main following reasons:- concerns over safety, availability of time and confidence. Women are often the ones with primary childcare responsibilities and disproportional concerns over slowing the group down, which could be seen as them being the least selfish and more considerate of the sexes 😉 .
We have therefore considered this and endeavour to provide safe rides (quiet roads where possible) led by experienced riders with your cycling welfare in mind and a growing community of strong (in every sense) women riders.
Our rides are mixed gender and aimed at a variety of fitness, ages and bikes, more info on our rides, when and where we meet and what to bring here.
What are we doing to change perceptions that cycling clubs are dominated by male lycra warriors ?
*In April 2018 we launched our "Zero (miles) to Hero" training rides, starting at 10 miles and increasing by 5 miles per week with some group-riding skills and drills. Aimed at the beginner to build up the distance gradually and improve bike confidence. Read more about the inaugural course here.
*We encouraged more women to get involved at Committee and role level, to better reflect society and represent the views/lifestyles of all members (a work in progress, more female committee/role members needed and welcome!).
*In 2018 we took the decision to replace one of our two annual male road races with one of the few women's road races across Yorkshire and the only women's category 3/4 road race in 2019 aimed at encouraging and developing the women's racing scene.
Happily (with the support of the local cycling community) it was an amazing day and a huge success, a full field of 60 women took to the starting line in March 2019 (a British Cycling record for amateur women's racing). As well as supporting women that wanted to race it was also about demonstrating to our female members (and the world) that we support getting more women on bikes. Read all about the race here. The women's race was due to run again in March 2020 with another sell-out field before being cancelled due to COVID-19 (along with the rescheduled version in August that year) but the hope and intention is that this becomes a regular event in the cycling calendar.
*We created the women's officer role in 2019, intended to be a focal point, sounding board and information resource and general confidante to assist and represent our female members in all aspects of their cycling.
*Recently surveyed (May 2020) past and present female members and women riders that have joined us for one-off invitation rides or intro courses, to establish what they want from a cycling club and their cycling. Lots of great feedback from this which has been used to create a new ride format.
*Created this web page (June 2020), early days, feel free to provide Astrid with some feedback 🙂
*We're planning to run more Ride Leader courses as soon as COVID-19 allows, both to get more female ride leaders trained up and to improve general safety.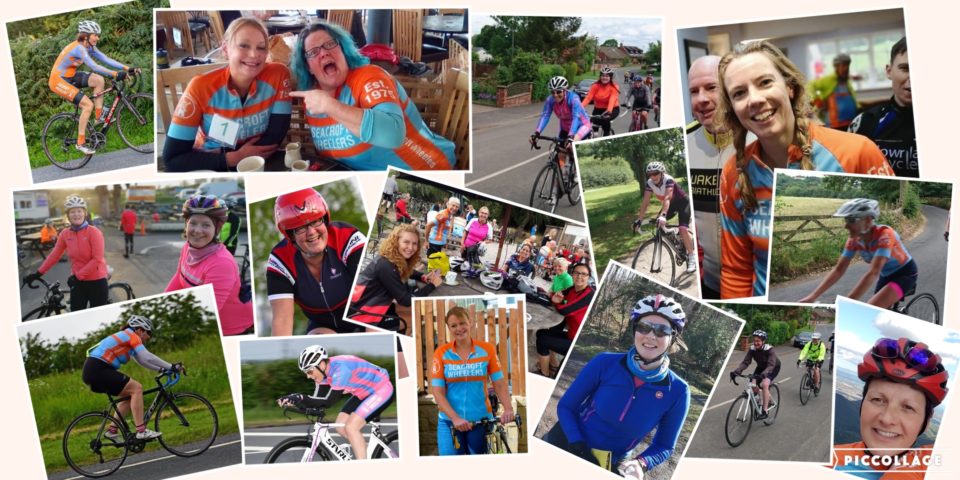 Interested yet ? Lets meet some Women Wheelers !
Claire
Name? Claire Lancaster
How long have you been cycling? Just over 2 years.
How long have you been a Seacroft Wheeler? About 2 years.
What kind of cycling do you do? Social, usually about 30/40 miles, and off-road rides, the muddier the better.
Favourite thing about cycling? The cafe stop ? and meeting other cyclists.
Least favourite? Not a big fan of hills or busy roads.
What prompted you to join? Craig made me (Sorry, persuaded me to) do the first zero to hero ?.
What is the best thing about the club? Everyone is so friendly and welcoming and if you're ever finding a ride a bit tough there is always someone there with you offering encouragement and support ?.
What is the worst? The fact that they meet outside Skyliner…….the smell of fish and chips when I get back from a ride is just so tempting ?.
This time next year I will be…..? Hopefully a bit quicker up those hills.
When I'm not cycling I'm…..? Nagging my kids about school work/the state of their rooms and searching for missing odd socks (oh and working as a nursery nurse).
Random fact about yourself? As well as cycling I also have an interest in dolls' houses and miniatures (my dolls' houses take up more room than my bikes ?)
Lynn
Name? Lynn Hanson
How long have you been cycling? I've been cycling for many years (37) ?
How long have you been a Seacroft Wheeler? I've been a Seacroft Wheeler for 37 years too.
What kind of cycling do you do? I'm mainly a road cyclist, do enjoy off road on the mountain bike too.
Favourite thing about cycling? 'the freedom' oh and the cafe stops ?.
Least favourite? the inconsiderate drivers that you come across occasionally.
What prompted you to join? My Mum told me of the cycling trips her and my Dad went on when they were younger which inspired me to take up cycling . It was my parents who got me involved with Seacroft Wheelers .
What is the best thing about the club? The companionship and going down new roads exploring new routes avoiding busy roads and the fact that you are never left behind whether it's a puncture or you're just plain knackered.
What is the worst? Can't think of any. No complaints
This time next year I will be…..? Riding my bike ?
When I'm not cycling I'm…..? Working, preparing meals, house work, gardening, learning to play my piano, trying to find time to read .
Random fact about yourself? I can't sit still for long.
Louise
Name? Louise Manning
How long have you been cycling? Cycling on and off for 5/6 years but nothing serious.
How long have you been a Seacroft Wheeler? Seacroft wheeler member for just under a year.
What kind of cycling do you do? Road cycling 35-45 miles.
Favourite thing about cycling? Freedom, fresh air, scenic views, social and cake!
Least favourite? Bad weather especially the wind!
What prompted you to join? Stopped rowing and wanted to try something new, recently moved up to the area and I was looking for something that would get me exercising and meeting some new people.
What is the best thing about the club? Social side, inclusion of everyone, very welcoming club.
What is the worst? Sometimes the pace of a ride is not trailored to the the people who turn up, it can feel like your spending the ride hanging on at the back (especially if you're the only girl).
This time next year I will be…..? Sat on a beach eating icecream.
When I'm not cycling I'm…..? When I'm not cycling I'm eating.
Random fact about yourself? Originally from Devon … still getting used to the northern accent
Elaine
Name? Elaine Kelly
How long have you been cycling? I started cycling when I was 12 so that would have been 1978 with one of my Dad's friends & his 2 sons & often cycled to my Grandad's.
How long have you been a Seacroft Wheeler? I joined the club when I was about 13 or 14 years old (1980). In my late teens I discovered alcohol & cigarettes & needless to say I stopped cycling. Once I hit 30 I bought a mountain bike & started doing small miles, I progressed to cycling to work every day & slowly increased my miles. I rejoined the club in my forties & have been a member ever since.
What kind of cycling do you do?  I do road cycling and time trialling but have also progressed to being a triathlete.
I organise the evening league time trials on behalf of the club. They are on a Thursday evening (May to August) & are on different courses so there is no chance of getting bored. I am not the fastest of riders but it's against the clock so that doesn't really matter & it's a great way to track your own personal progress. It's also a great opportunity to meet & get to know other cyclist from other clubs. At the end of the season there is a get-together for a few drinks, pizza & prize presentation.
Favourite thing about cycling? The cafe stops! I also enjoy getting out in the country & the stunning scenery of Yorkshire.
Least favourite? Descending steep hills. I keep meaning to develop my skills by getting some help from our club coach, Mike Farthing, but haven't got round to it yet.
What prompted you to join? As I had already been a member in my earlier years I had many happy memories from the club & I didn't want to join a new club it just didn't feel right.
What is the best thing about the club? The friendliness & encouragement from other riders, especially the evening league.
What is the worst? Rides without cafe stops.
This time next year I will be…..? I will be fitter & faster.
When I'm not cycling I'm…..? I'm either running, swimming or spending time with my family.
Random fact about yourself? I have raced in the same time trial as Beryl Burton. (local cycling legend who still holds some records)
Astrid
Name? Astrid Pot
How long have you been cycling? Since I was 4 years old as I grew up in the Netherlands. Cycling there is a means of transport so would never cycle for "fun". Moved to the UK in 1998 and didn't touch a bicycle up till 2018 when I joined the club.
How long have you been a Seacroft Wheeler? 2 years now. I saw an advert at the gym from the Seacroft Wheelers to join the "Zero to Hero" program in spring/summer 2018. So I dusted off my old mountain bike and off I went. For a few weeks we would meet at John Smeaton's and set of along the quiet backroads building up the miles. There was a good mixture of people there on all sorts of bikes. Thoroughly enjoyed it and joined the club when the Zero to Hero came to an end.
What kind of cycling do you do? I do a bit of all. Started off with the off-road rides as I only had a mountain bike. Those rides would happen approximately twice a month on a Sunday and shorter local ones on Wednesday nights. Then I joined the cyclocross training at Temple Newsome on Wednesday evening and started joining the cyclocross races. The winter cyclocross season is racing on Sundays (approximately every other week) and we train on Wednesday nights. The summer cyclocross season is racing every other Wednesday night and the free Wednesday evenings we go out for an off road. Off-road rides vary from 15 miles (2 hours local) to 50 miles (an all dayer on a Sunday). It's never about the distance or the speed but always about having a laugh. Then I also got a road bike so I can join the road rides on Sunday mornings when there were no off-road rides. I also use this bike now occasionally to commute to work.
Favourite thing about cycling? The good laughs we have when riding and at social nights out. A lot of cyclist actually have a great sense of humour. Me included ?
Least favourite? Hills and wind. There is a lot of wind in the Netherlands and hated it then, there are no hills there so never got to train on them and will never enjoy climbing one. Obviously downhill is great!
What prompted you to join? I lived in Leeds for 20 years but didn't know where to cycle. My navigation skills are not great. I Liked the fact that I could turn up, follow someone and enjoy the ride instead of stopping at every junction and fretting which way to go.
What is the best thing about the club? Everything! I enjoy the diversity of people, the banter we have, the rides people share with each other. The encouragement you get from everybody when you participate in something new. Discovering new places and cafes.
What is the worst? I feel sometimes that everyone else seems to have more time and is more motivated then I am. I am jealous when I see their long fast rides but I actually don't fancy doing it myself! Well, I would if I could do it without training ?. So I think the worst about the club (probably any cycling) is the image they portray as a bunch of lycra-clad people who live and breath cycling whilst in real life these people only represent a small percentage of the club. The majority is probably like me and enjoy getting out and about for a few hours with a good group of people. I never fancy going but love it when I am there and feel fantastic when I get back.
This time next year I will be…..? Hopefully a lot fitter and faster than I am now. But I am sure I said that last year as well ?
When I'm not cycling I'm…..? Horse riding, let my horse do the hard work.
Random fact about yourself? I have a garden snake in my shed who keeps puncturing all my tires. Two flat tires on one bike at the moment.
We hope that has given you a good insight into our club and that you are inspired to come along and join us for a ride soon and help grow an amazing community of women that love to ride their bike(s) ! 🙂