Seacroft Wheelers Hill Climb
Inaugural Weardley Bank Hill Climb for Seacroft Wheelers so there are club records up for grabs in all categories
Open Event, all welcome. Riders must be a member of a Cycling Time Trials (CTT) affiliated club (Seacroft are affiliated). The Seacroft Wheelers club hill climb is a time trial and you are set off at 1 minute intervals.
New to the hill climb? If you have not ridden a hill climb before and would like to have a go then this event is ideal for you to try, to see if you like it.
Entry Fees £5 senior members and under 16s.
Under 18s must supply a signed CTT club events parental consent form.
Parking at the New Inn Pub car park, Eccup Lane, LS16 8AU
Please note this event is free for first claim Seacroft Wheelers riders.
Marshals are also needed please, this event cannot happen without help.  If you are willing to help please contact Andy at eveningleague@seacroftwheelers.co.uk
Course
Start on Weardley Lane, Harewood, 200 yards south of junction with A659, on east side of road, at 1st stone post after triangular warning sign "horses" & "bends" for 2.5 miles. Proceed south, through Weardley, continue up Weardley Bank, to finish at Telegraph Pole TP23 at summit of hill, 100 yards past entrance to Burden Head Farm, and 20 yards beyond Pete Gannon Memorial Seat (1.42 miles).
Click the map to see full route details and the export to GPX option is on the right hand side.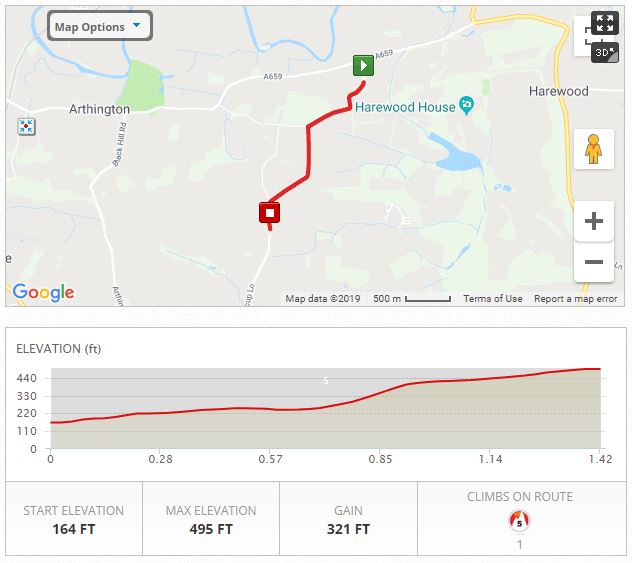 Please arrive and be ready to pay and collect your number. There is a maximum of 40 riders and it's on a first come first served basis. Please note last signing on time will be 6.45pm.
This helps organisers plan better but more importantly gives you the chance to warm up. Once you have collected your number this needs to be displayed on your back towards the left hand side. All riders are pushed off at one minute intervals and given a time for the distance rode. It is helpful for the marshals if you shout out your number as you cross the finish line.
New CTT rules are that all competitors must have rear working lights – no lights no ride!
Marshals needed please, this event cannot happen without help, contact Andy at eveningleague@seacroftwheelers.co.uk