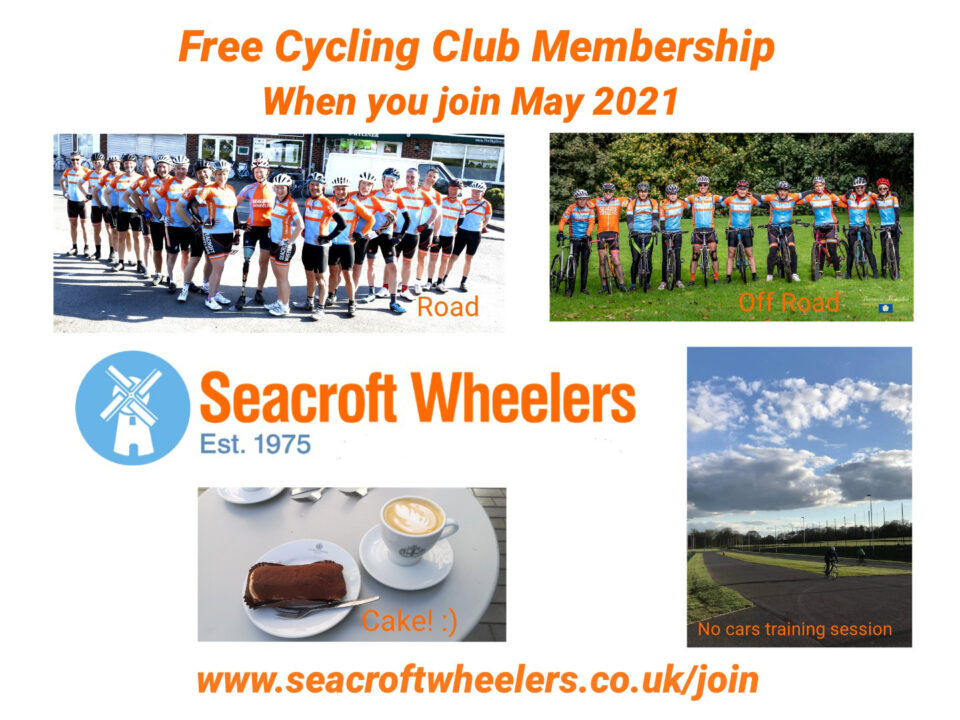 Join Seacroft Wheelers cycling club as a new member before the end of May 2021 and receive FREE membership until 31-01-2022.
All you need to do is complete a membership form on the Join page here.  Then check the home page or facebook group for more details on where we meet, rides, events etc.
*We are a friendly club based in East Leeds, West Yorkshire but welcome riders from everywhere and cover road, off road, time trialing, racing, cyclo-cross.
*Our rides are mixed and we are committed to getting more women riding bikes, see our new women's page here.
*There is a recently introduced Short Social ride that starts at around 20miles, very relaxed pace, nobody left behind and on quiet roads wherever possible. Coaching and skills training will be provided when appropriate. There are further and faster rides to choose from as well, see the rides page for details. Generally a cafe stop is included 🙂
*We are planning an invitation ride/skills session at the Brownlee Circuit (closed to cars) in the Summer (date t.b.c.) which you are all welcome to attend, free of charge
*If you are just getting back into cycling or just starting out and would like to put your name down for our "Zero to Hero" training course let us know, (this is a 5 week course starting at 10 miles per week and gradually increasing each week). Click here for more info.
*Come and join us for a ride and we will show you some of Yorkshires beautiful countryside from two wheels 🙂
(offer applies to anyone that has not been a member in the last 5 years, regular membership price is £12.50 and runs from Feb to Jan which you have the option of renewing)