Official Kit, Pricing and Ordering
Biemme Kit
Design
These are the latest designs of the race short sleeve jersey (S.S.J.), race bib shorts, race long sleeve jersey (L.S.J.), gilet, winter jacket, arm warmers and speed-suit.
The windmill logo front and back of the SSJ does not actually contrast as much as it appears to in the design proof in picture four. Picture eleven of the gallery provides a better idea of how it will look printed on jersey material and in direct sunlight.  You will see that it is a much more subtle contrast.
Click on this next link for the full product list Biemme Custom Clothing Product Guide 2020
Ordering *no order in process but email requests*
Please email kitorders@seacroftwheelers.co.uk with your requests and when there are sufficient items for an order and everyone is happy with the unit price, we will ask you to send an order form. Once payment has been received and the order submitted the time to delivery is between 4-8 weeks.
The price varies with the quantities ordered and there is a minimum order of 5x of any garment type eg "race short sleeve jersey". The current quantities requested and corresponding price (in bold) will be updated in the table below:-
| Item | Quantity 5-9 | Quantity 10-14 | Quantity 15+ | Total Requests |
| --- | --- | --- | --- | --- |
| Race short sleeve jersey (Men) | £55* | £55 | £50 | 0 |
| Race short sleeve jersey (Women) | £55* | £55 | £50 | 0 |
| Race long sleeve jersey (M) | £62* | £62 | £55 | 0 |
| Race long sleeve jersey (W) | £80 | £62 | £55 | 0 |
| Race bib shorts (M) | £67* | £67 | £60 | 0 |
| Race bib shorts (W) | £67* | £67 | £60 | 0 |
| Gilet (pockets) (M) | £55* | £55 | £50 | 0 |
| Gilet (pockets) (W) | £74 | £55 | £50 | 0 |
| Winter Arm Warmers | N/A | min. 10x £20 | N/A | 0 |
| Cap | min. 30x £10 | | | 0 |
| Pro Winter Jacket (M) | £125* | £125 | £114 | 0 |
| CX/MTB long sleeve jersey | £58 | £47 | £40 | 0 |
| Jampa 2 Jacket | £154 | £115 | £105 | 0 |
| Lycra Arm Warmer | N/A | min. 10x £20 | N/A | 0 |
*denotes we receive the quantity 10-14 pricing for the quantity 5-9  on items we have previously ordered.
Kit Subsidy- there is a further 15% discount for first claim members (ie if SW is your main cycling club) off their first race short sleeve jersey and race long sleeve jersey. (this will be deducted prior to requests for payment).
We have picked out the most common items ordered so we can achieve the best pricing. You can request anything in the product guide above but we must hit the 5x quantity to add them to the order.
Total minimum order quantity is 12 items with a m.o.q. of 5x of each.
Size wise have a look at the "Sizing Info." tab for guidance and/or try on a club members, if you need further help, or  you don't know anyone that has your required size contact emma@biemme.co.uk to arrange trying on samples. Please make sure you order the correct size, we can't accept returns/refund any orders (although there is a good chance you could sell it to another member 🙂 ).
If you are a new member please have a look at the "In stock items" tab to see if anything there is of interest.
Pricing
Scroll down to view the item pricing or click the download link for the full pdf version.
*Please note: men's and women's "race" short sleeve and long sleeve jerseys have an additional 15% club subsidy (for first-claim members for one SSJ and one LSJ) to be taken off the prices below.
Download Biemme Custom Price List 26-09-19 SW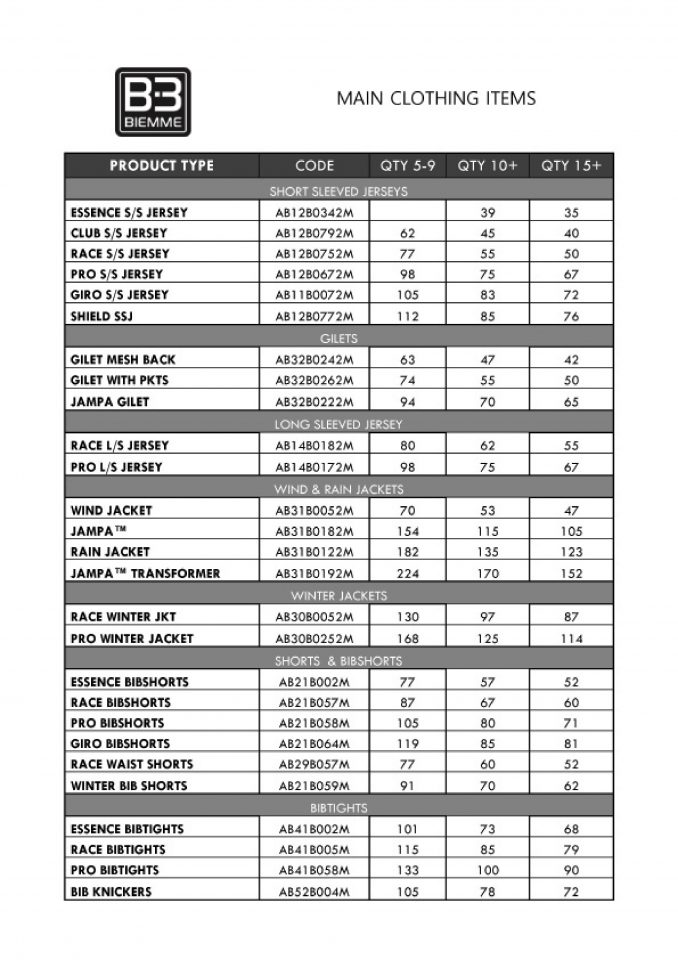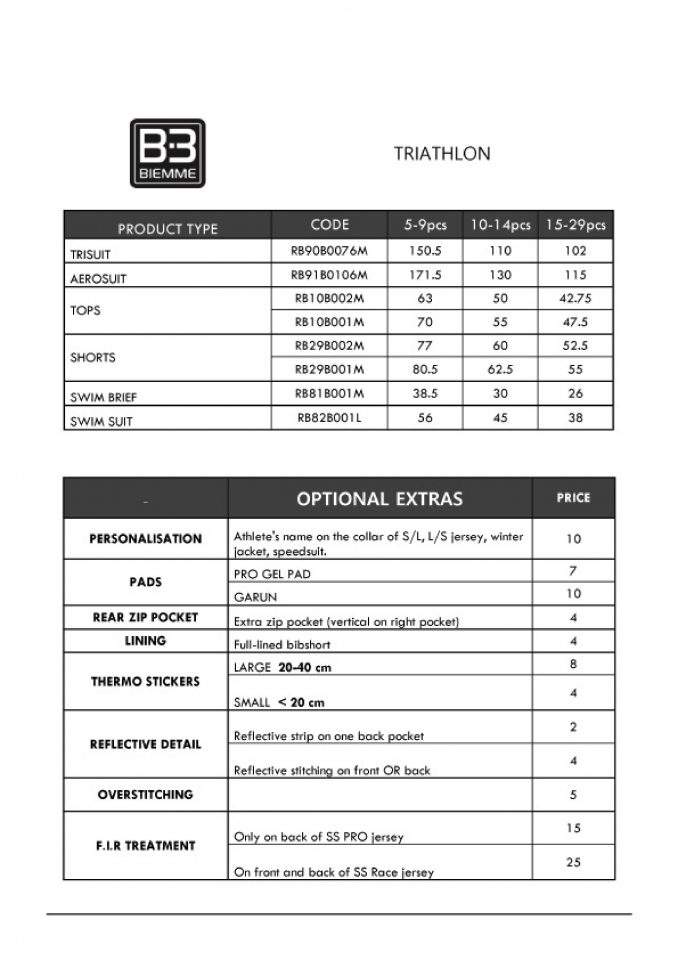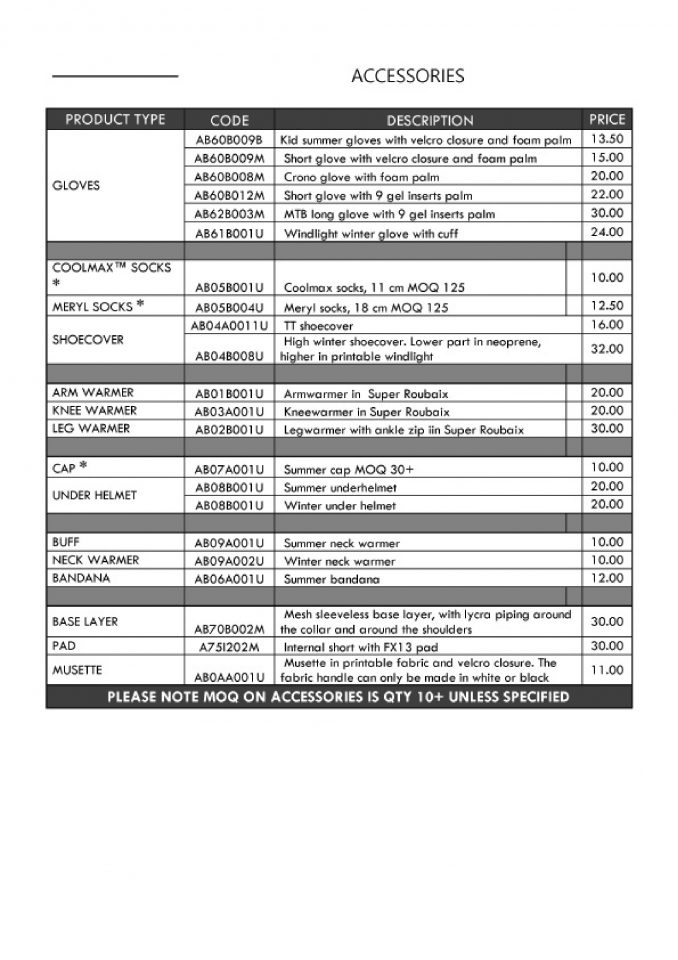 Sizing Info.
Consult the size chart below, if you are still unsure then contact emma@biemme.co.uk for further guidance and to arrange trying samples on at their premises.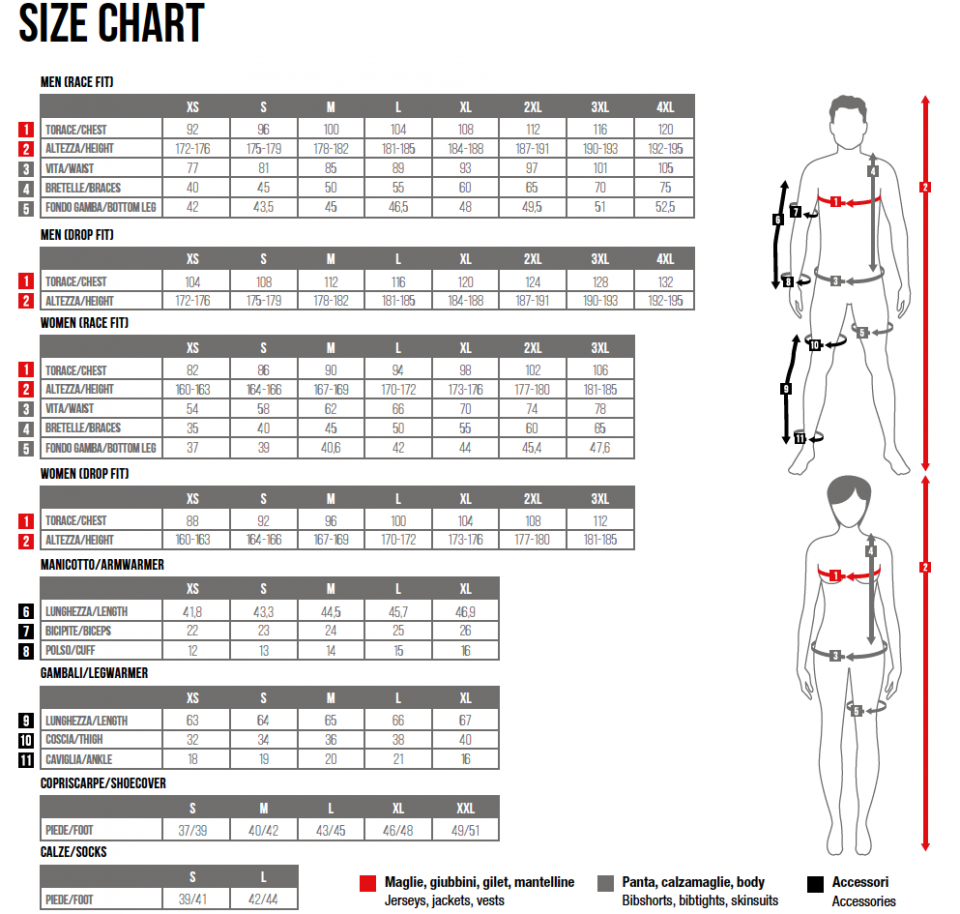 Order Form
Aftercare
Cam lock zip (found on the short sleeve jersey and gilet)
It is important to push the zip slider firmly to the bottom of the retaining box, with the pull toggle pointing up – which is the 'open' position. When the toggle is down it is 'closed' and locks. If you try to zip the jersey up, whilst the toggle is in the closed position, it can cause the teeth of the zip not to join correctly and it can splay open.
The cam lock, when in the up 'open' position can be undone easily with one hand, whilst climbing for example.
When in the down or 'closed' position it won't open.
Washing Care guide to prolong the life of your kit
Always wash your clothing immediately after use.
Where possible, turn the garment inside out and wash fully zipped.
Do not wash with items containing Velcro.
Wash at 30 degrees Celcius (or less).
Use non biological washing powder and don't use fabric softener.
Line dry, do not tumble dry or place on or near direct heat as this can damage the technical fabrics.
Do not Iron.
Ensure that kit is washed with similar items (nothing heavy or abrasive), or use a net washing bag.
General Care
Many of the fabrics are delicate and designed for your comfort and performance. We want to ensure that your clothing lasts as long as possible. There are things that you can do that will prolong the use and keep your garment looking its best for longer.
It may seem obvious but fabrics will wear and deteriorate with both time and use. Sweat, lotions, oils, fabric softeners, biological detergents, antiperspirants and alchohol in perfume and aftershave can damage fabrics, can affect the technical properties of some fabrics and cause the fibres of some fabrics to deteriorate. Chlorine and salt water can also bleach and damage fabrics.
Warranty 
Biemme clothing comes with a 12 month warranty from the date of purchase
Should you experience problems with the following, within a 12 month period, during normal wear and having followed all of the care instructions then Biemme will repair or replace the item at their discretion:
Broken zip
Failed stitching – not caused by abrasion or accident/ crash
The warranty is not extended to damage caused by:
Accident
Improper care
Normal wear and tear
Natural fading (colour/ material) over time and with use.
Rips/ tears/ holes/ abrasions/ shrinking or burns
Avoiding abrasion damage: (not covered by warranty)
Keep clothing away from Velcro fasteners – including those on gloves, saddle bags and overshoes etc and ensure they are washed separately.
Ensure you have a well fitting saddle, as a poor fitting saddle can be more than uncomfortable – it can also damage your clothing.
Jerseys and jackets are not designed to carry rucksacks, which are also likely to cause abrasion.
Take care not to overfill pockets or carry sharp or heavy objects as they are likely to cause damage to fabric or stitching.
Ensure you are wearing an appropriately sized garment.
Warranty Contact
You may be asked to return the item to their premises here.
content duplicated from https://www.biemme.co.uk/pages/care-guide